The Original Game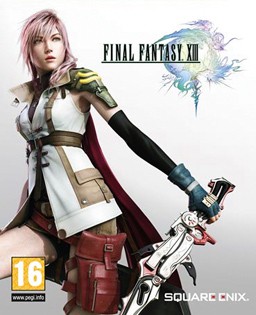 Final Fantasy XIII​ (ファイナルファンタジーXIII, Fainaru Fantajī Sātīn) is a role-playing video game developed and published by Square Enix for the PlayStation 3 and the Xbox 360. Released in 2009 in Japan and 2010 in North America and PAL regions, it is the thirteenth installment in the Final Fantasy series. The game introduced a few innovations to the series: a fast-paced combat mechanic, a new system determining which abilities are developed for the characters called "Crystarium", and a customizable "Paradigm" system to control which abilities are used by the characters. Final Fantasy XIII also includes elements from the previous games, such as summoned monsters, chocobos and airships.
The game takes place in the fictional floating world of Cocoon, whose government, the Sanctum, is ordering a purge on civilians who have supposedly come into contact with those from Pulse, the much-feared world below. Lightning, a former soldier from Cocoon, begins her fight against the government in order to save her sister, who has been branded a Pulse l'Cie—unwilling servants to the beings known as the fal'Cie, who maintain order on both Cocoon and Pulse—and thus has become an enemy of Cocoon. Lightning is soon joined by a band of allies, and together the group also become l'Cie after their encounter with a Pulse fal'Cie. Together, they rally against the Sanctum, while also trying to discover their "Focus" as l'Cie—the tasks they must complete before their time comes to an end.
First appearing at E3 2006, Final Fantasy XIII is the flagship title of the Fabula Nova Crystallis collection of Final Fantasy games and is the first game to use Square Enix's Crystal Tools engine. Square Enix describes the theme of the game as "those who resist the world". Final Fantasy XIII received mostly positive reviews from video game publications. Selling over 1.6 million copies in Japan, it became the fastest-selling title in the history of the series. As of May 2010, the game has sold 5.75 million copies worldwide.